All the Elements of Your Roofing System Should Work Together to Protect Your Home
Your roof is more than just the sum of its parts. Any experienced roofer knows that a roof is a system that works together to keep your home protected. Using an integrated roofing system from GAF creates a truly cohesive structure that lasts.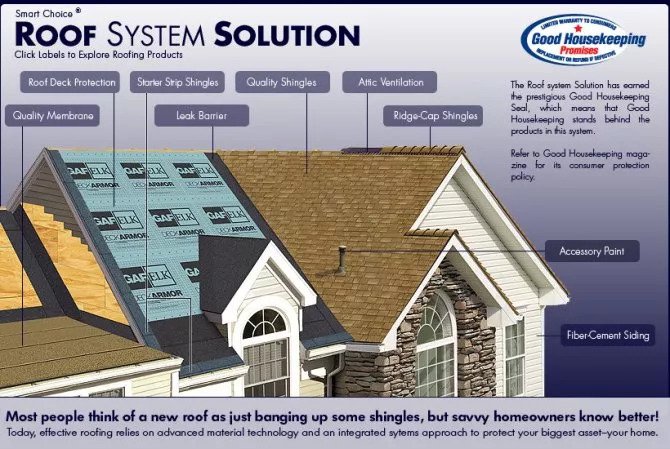 GAF's Smart Choice® Roof System solution has earned the Good Housekeeping Seal, which means it has been independently tested by the Good Housekeeping Institute to perform as intended. At LePage and Sons Roofing LLC, we're proud to be a GAF Master Elite® Certified roofing contractor and can provide you with an innovative system for unrivaled performance for your new roof.
Benefits of Using Integrated New Roof Components
All the elements of GAF's Smart Choice® Roof System work together to prevent common roofing problems and minimize maintenance. When you invest in an integrated roofing system, you see benefits such as:
Superior leak protection. A leak barrier keeps water out of your home, even if your shingles become compromised.
Proper roofing ventilation. Support your home's energy efficiency and indoor comfort with proper attic ventilation.
High-quality shingles. GAF's beautiful shingles come with a limited lifetime warranty when installed by our Master Elite Certified team.
Roof deck protection. Prevent damage from wind-driven rain and keep moisture from damaging your roof deck with GAF's Roof Deck Protection layer.
When it comes to your new roof, investing in a GAF roofing system can help you make your best investment and enjoy exceptional protection for decades to come.
Invest in a System, Not Just a Roof
When your roof is more than just a roof, it's time to invest in a roofing system. Get a complimentary estimate from LePage and Sons Roofing LLC by calling us at (508) 295-6483 or completing our contact form for more information.