It is no secret that replacing your roof can take a considerable amount of time, effort and money. As the main component of your exterior, your roof has to ensure optimal protection against weather elements, such as heat, hail, and snow, all year round and complement the architectural style of your home. This means your selection can affect the long-term performance, efficiency, durability, and beauty of your replacement roof.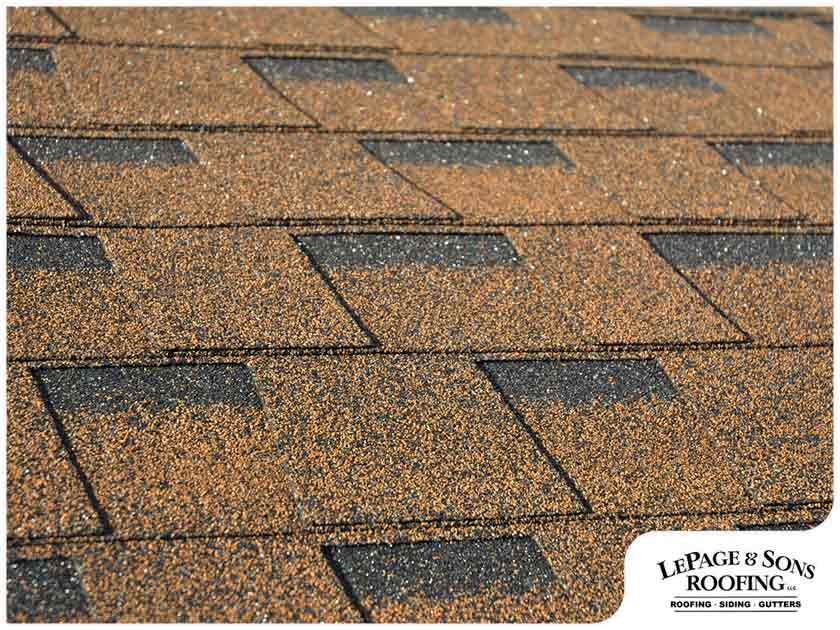 It is important to conduct thorough research to determine the best roofing choice. In this article, reputable solar roofing contractor LePage and Sons Roofing LLC takes a closer look at asphalt shingles, one of the most prevalent roofing materials in the U.S. today. We discuss the material composition, various types, and main reasons why they are a worthy investment for your home.
The Material Composition of Asphalt Shingles
Also known as composition shingles, asphalt shingles make up around 75 percent of all residential roofs in North America. Here is what you need to know about each component that goes into an asphalt shingle:
Mat — It is the base material of an asphalt shingle that acts as reinforcement, allowing the shingle to resist tearing, pulling, and splitting during the installation process. The mat comes in two types: cellulose and fiberglass. The cellulose mat is thicker, made from wood chips, cardboard, and other recyclable materials, and commonly found in older asphalt shingles. The fiberglass mat, on the other hand, is made from glass fibers bound together with stable resins and binders. It is the base material used by most manufacturers in the U.S. today.
Asphalt — Asphalt is the primary water-resistant ingredient in shingles. It is usually an end-product of oil refining and processing to a greater level of toughness needed for roof performance. A fine mineral powder is fused with the asphalt to improve its weather resistance. Finally, the mineral-fortified asphalt is applied to both the front and back of the base mat.
Granules — Made from opaque, fine-grain rock particles, granules are the most noticeable aspect of asphalt shingles. On the part of the shingle not exposed to sight, the granules are applied in their natural stone-colored condition. On the exposed part of the shingle, the granules feature a variety of long-lasting colors. Some shingles are covered with algae-resistant granules that prevent discoloration due to blue-green algae, an excellent quality to look for in roof replacement.
Sealant — Specks of a thermally-activated sealant are applied to the shingles to bond them together on the roof. If the roof is composed of multi-layer laminated shingles, a similar material called "laminate" is utilized to adhere the layers of shingles together during manufacturing.
The Different Types of Asphalt Shingles
There are three crucial categories of asphalt shingles available today: strip shingles, dimensional shingles, and luxury shingles. It is important to understand the differences between each type of roofing shingle in order to select the product best suited for your home.
Strip Shingles — Commonly known as 3-tab shingles, strip shingles are the earliest, most basic form of asphalt shingles. Made from a single layer of asphalt, these products are lightweight, typically measuring 36 inches long and 12 inches wide, tend to have a very flat appearance, and cost less than other types of asphalt shingles. These shingles feature two notches that divide the lower part into three tabs. Today, strip shingles are most often used by residential builders that construct inexpensive homes or homeowners that already have strip shingles installed on their roofs.
Dimensional Shingles — Also known as architectural or laminated shingles, dimensional shingles are the most widely used type of asphalt shingles for roof replacement today. Manufactured with two or more layers of asphalt, these products tend to have a thicker and richer multi-dimensional appearance that makes homes stand out better. They are also engineered for better weather performance, with many manufacturers producing shingles that can withstand winds of up to 110 miles per hour. Moreover, dimensional shingles are popular for being able to replicate the nature-inspired aesthetics of natural slate and wood shake.
Luxury Shingles — If you prefer laminated shingles of the highest quality, then luxury shingles are the perfect choice for your home. These products boast an appearance, functionality, coloration, and weather performance that outshines that of architectural shingles. An ideal roof for period-style houses, luxury shingles mimic other high-end roofing materials like natural cedar shake and quarried slate roofing but at a fraction of the cost.
The Key Reasons to Invest in Asphalt Shingles
Durability — Your roof is responsible for shielding your home from weather elements. This is why it is critical that you choose a roofing material that can handle the onslaught of heat, snow, and hail throughout the year. Good thing is that asphalt shingles are durable enough to perform well in hot and cold climates. They also have excellent uplift and fire resistance and fewer leak problems if well-kept. According to a solar roofing contractor, if top-quality asphalt shingles are used, the roof can last up to 30 years.
Lightweight — One of the main reasons asphalt shingles are so popular is because they are lightweight, making them fairly easy to tear off and install. This makes the labor cost for asphalt shingle installation lower than heavy-duty roofing materials like slate.
Affordable — Another reason to pick asphalt shingles is their cost-effectiveness. Since they are lightweight, they do not require additional reinforcement or framing support to keep them intact and in place. Plus, the installation is not as complicated as other roofing choices, allowing experienced contractors to easily work on the roof while staying on budget and schedule.
Versatility — Asphalt shingles come in a wide variety of textures and rich, gorgeous colors. There is also an expansive selection of shingle styles that can fit any home style. Asphalt shingles can also resemble other sleek roofing products like wood, cedar, and slate but without the high costs. 
Availability — Since asphalt shingles on homes are prevalent throughout the United States, it means there is a wide availability of good-quality products on the market. Also, you will not have to worry about finding a professional to perform emergency roof repair when your roof exhibits storm damage or advanced wear and tear since there are plenty of qualified contractors out there.
Low Maintenance — Asphalt shingles have lower maintenance requirements compared to other popular roofing materials. Keep in mind, however, that even a low-maintenance asphalt roof needs to be inspected and repaired from time to time, especially after a serious storm event. As a rule of thumb, residential roofs should be serviced at least twice a year, preferably during the fall and spring months. Even if there are no obvious indications of damage, it is still a good idea to have your roof inspected since most forms of water-related damage take time to emerge.
Let a Top-Rated Roofing Contractor Help Achieve Your Dream Exterior
You can count on LePage and Sons Roofing LLC for high-quality new roof installation, roof replacement, and emergency roof repair services in southeastern Massachusetts. Our certified team is committed to ensuring the comfort and satisfaction of our residential and commercial clients by delivering industry-leading products, extended warranties, maintenance programs, and outstanding customer service. Call us at (508) 210-2334 or fill out our contact form to set up an appointment or request a free, no-obligation quote.